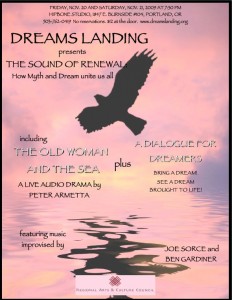 The first Dreams Landing-sponsored performance took place on Friday and Saturday, November 20 and 21, 2009 Â at Hipbone Studio, 1847 E. Burnside #104, in Portland, OR.
"The Sound of Renewal: How Myth and Dream Unite Us All" was a two part performance event.  The first part was a live presentation (with sound effects and a cast of 5) of the original audio drama "The Old Woman and the Sea," while the second part, "A Dialogue For Dreamers," was interactive — members of the audience were invited to bring their own dreams, and see a dream brought to life!
"The Old Woman and the Sea" was written by Peter Armetta, and  the performance featured a live, improvised musical score by Joe Sorce and Ben Gardiner.
"The Sound of Renewal" was presented in part through a grant from the Regional Arts & Culture Council.